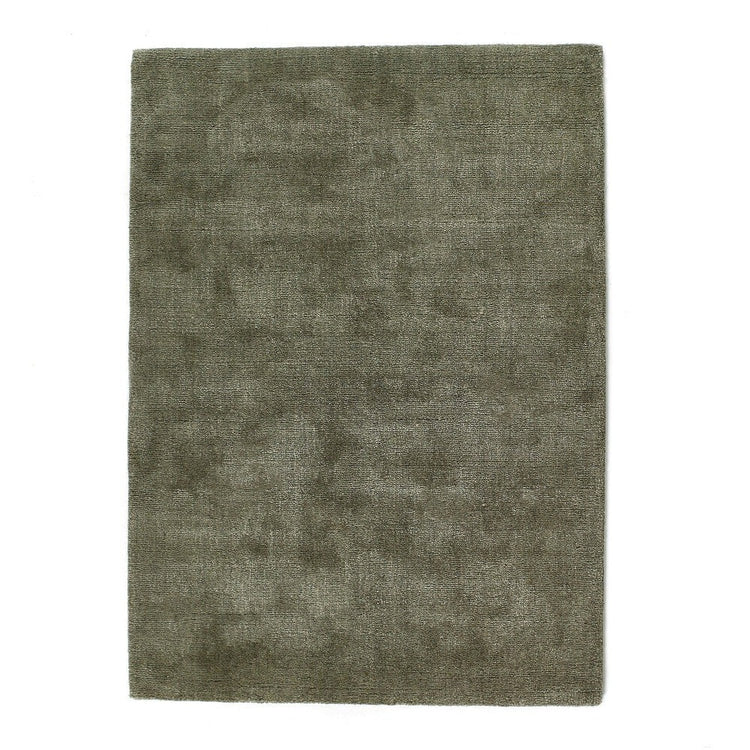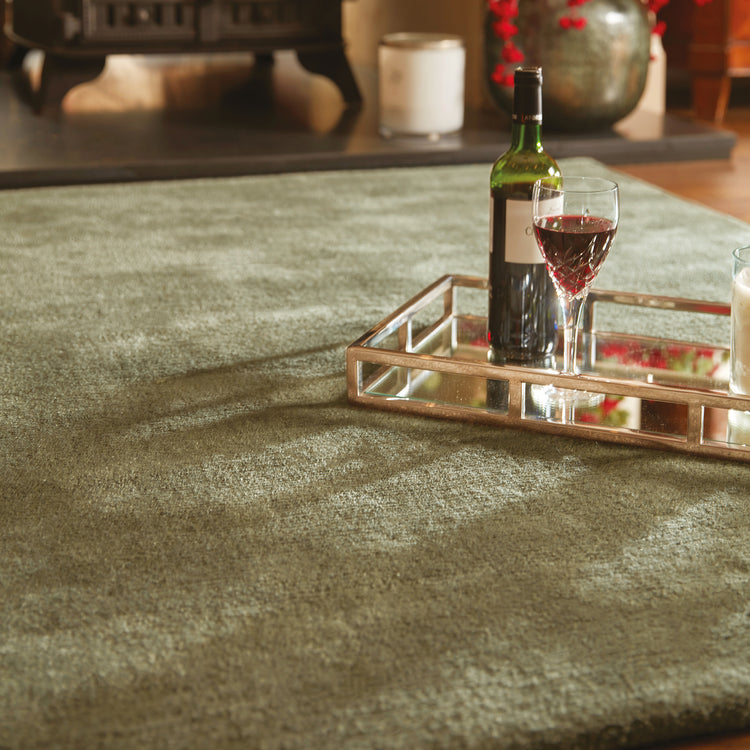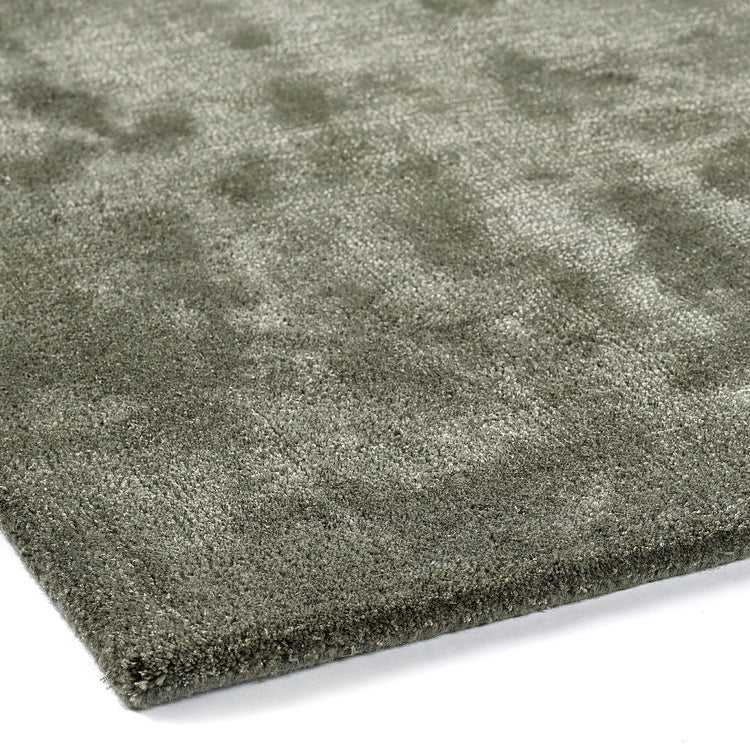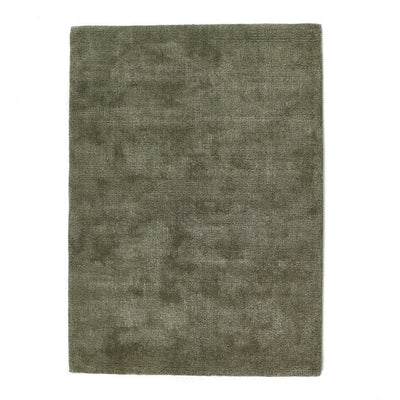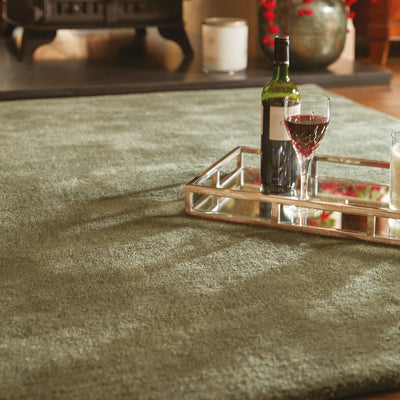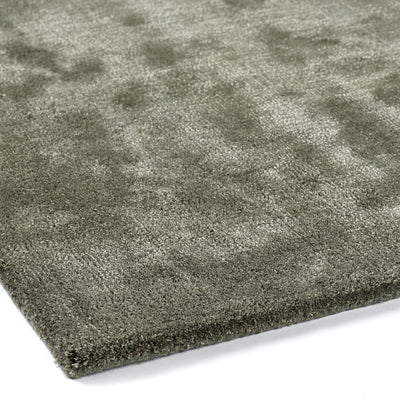 Hush Rug Olive
Hand-woven from a mix of luxury wool and viscose yarn
Luxurious and super soft underfoot
Perfect for low traffic areas
Sale price

£300.00

Regular price
Tax included.
Shipping
calculated at checkout.
Product details

These beautiful super soft rugs are a mix of wool and viscose giving it the natural quality of wool with the sheen and light catching nature of viscose. The subtle colours add a calming effect to your room, luxurious and contemporary. Hand woven from a mix of luxury wool and viscose yarn, perfect for low traffic areas of your home.
Pile weight of 3800 GR/M2.
For a quick guide to rug sizes, take a look at our handy size guide.
Due to the delicate nature of viscose, we don't recommend this rug in high-traffic areas. 
Please note, this rugs colours may vary slightly from the photograph.
Delivery & returns

Delivery
*Free delivery over £75 offer is on orders equal to or greater than £75 after any discounts have been applied and before the postage cost is applied. This offer is unavailable for non-mainland UK addresses, including our lovely customers across the waters in Northern Ireland, some areas of the Highlands and Islands; instead a postage discount of £4.95 will be applied.
Find Out More
Returns
We are sure you will love your new Hug at Home product but if for any reason you feel you need to send it back please do it within 28 days and we will be happy to exchange or refund the money. Please note that anything bought in the seconds sale has a 14 day return period.
Find Out More
Lovely list of benefits

Why Origin Rugs are Fabulous…

Our natural rug ranges are a collaborative effort of many people, a highly talented team of dedicated professionals spread over our own manufacturing plants in the UK and India. From the designers, spinners and weavers to the people who deliver and lay the finished rug, the result of all this is a hand made rug of the highest quality.


Caring for your viscose rug

VACUUMING:
We recommend that you do not vacuum your viscose rug regularly, as this can damage the fibres within the rug. When vacuuming you should follow the direction of the pile, we suggest using the suction hose attachment or a carpet sweeper, rather than a vacuum with high suction or a beater bar which can cause damage to your rug. If your viscose rug has fringes (or tassels) brush these with a broom or brush, instead of using the vacuum as this could detach the fringes from your rug. 
SPILLS & STAINS:
Any spills should be dealt with as soon as they happen to prevent permanent damage, especially on a viscose rug. If viscose comes into contact with water (or any other liquid) the rug will yellow. Follow the below steps for the best way to treat the spill:
Blot the excess with a clean, dry, white cloth or paper towel - do not rub as this can spread the spill

Using a citric acid cleaning solution (if you have a powder, mix with some cool water to create a solution) gently rub the stained area in the same direction as the pile - only use a very small amount of solution

To prevent the rug from going stiff when it dries spray fabric softener on the cleaned area 

Allow your rug to dry - keep away from heat and out of direct sunlight, heat can cause the rug to start yellowing. To dry quickly (the quicker the rug dries the better) use a hair dryer on the cool setting

Once completely dry brush your viscose rug
Viscose is a very absorbent material and holds on to water and other liquids easily, so it is important to use as little water as possible when cleaning your rug.
RUG GRIP:
Rugs without a rubber backing need a rug grip to stop them from slipping and creeping! We recommend buying our anti-slip underlay which can be cut to the size and shape of your rug.
Safety - No matter where the rug is placed (on carpet or hard flooring), a pad keeps the rug in place to prevent slips and pulls

Longevity - Believe it or not, a rug grip extends the life of your rug by preventing the fibres from being crushed. The pad acts as a buffer between the hard surface below and the rug above

Protection - Very important! A pad prevents dye transfer, marring, staining, and scratching to the floor or carpeting beneath

Comfort - A pad adds extra cushiony softness underfoot

Cleanliness - A pad allows for easier vacuuming as it holds the rug in position
Reviews

We recommend buying our anti-slip underlay with this rug
It reduces slip & trip hazards and extends the life of your rug.
View this product here
We recommend buying our anti-slip underlay with this rug
It reduces slip & trip hazards and extends the life of your rug.
View this product here
We recommend buying our anti-slip underlay with this rug
It reduces slip & trip hazards and extends the life of your rug.
View this product here